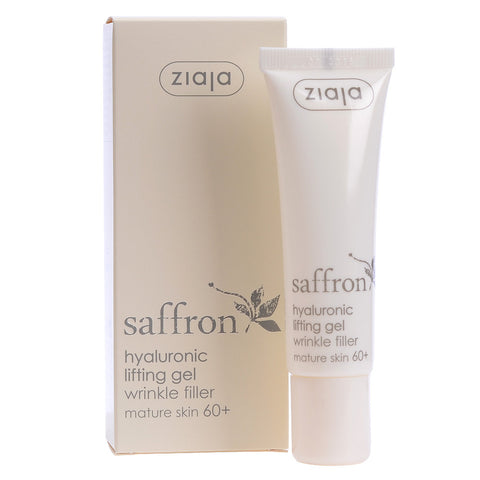 Saffron Hyaluronic Lifting Gel - Wrinkle filler
Saffron Hyaluronic Lifting Gel - Wrinkle filler
Product Size: 1.0 fl oz (30 ml)
Unique gel formula with highly concentrated hyaluronic acid for all types of mature skin 60+. Contains active ingredients stimulating skin renewal processes. Provides immediate lifting effect. Reduces the imperfections of fatigue skin. Effectively smooths out surface wrinkles. Intensely and long-lastingly moisturises the epidermis

Key Ingredients:
Collagen Peptides, Hyaluronic Acid, Red-gold Saffron, Sweet Almond proteins
Recommended for mature 60+ skin

MAIN INGREDIENTS: Red-Gold saffron:
contains flavonoids and antioxidants with anti-aging activity.
Collagen peptides: (analog of a unique collagen sequence) - stimulates the production of collagen and elastin responsible for skin smoothness and firmness.
Hyaluronic acid: - increases skin elasticity.

Directions:
Apply a small amount of gel on wrinkle-prone skin. Recommended to use as a base under day and night cream. The excess may appear in the form of dry bio-gel.
Aqua (Water), Sodium Hyaluronate, Propylene Glycol, Diazolidinyl Urea,Methylparaben, Propylparaben, Butylene Glycol, Hexapeptide-9, Glycerin, Crocus Sativus Stigma Extract,  Prunus Amygdalus Dulcis (Sweet Almond) Seed Extract.
---
We Also Recommend
---