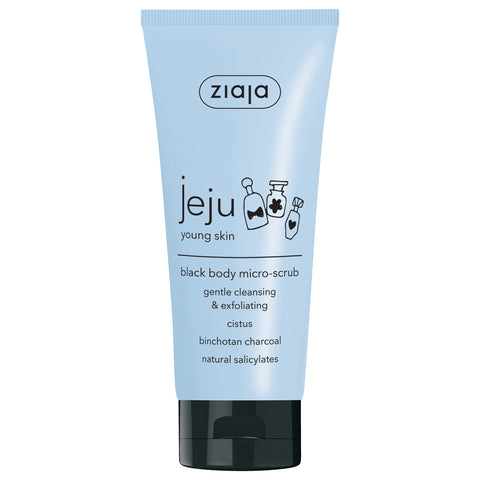 Jeju Black Micro-Scrub and Body Wash
Jeju Black Micro-Scrub and Body Wash
Product Size: 7.0 fl oz (200 ml)
Fine-grained scrub gel. Based on biodegradable particles - from polylactic acid and cellulose. Contains moisturising glycerine. Does not contain surfactants. Easily rinsed-off.

ACTION:
Effectively cleanses the skin of the body. Supports exfoliation of dead skin cells. Provides a pleasant skin massage.

EFFECT:
Smooth and soft skin. Properly moisturized skin. Feeling of refreshed skin.
Jeju Product line Main Ingredients:
camellia oil Camellia japonica seed oil
• light, cold extruded oil, extracted from camellia japonica seeds
• rich in unsaturated fatty acids and ingredients with antioxidant activity
• provides protection against premature aging of the skin
• soothes irritations
• strongly moisturizes and regenerates skin and hair
• effectively cares for the face, body, hair, scalp
binchotan charcoal Charcoal powder
• obtained from Quercus phillyraeoides oak
• a rich source of minerals
• has strong properties "attracting" all impurities and excess sebum
• thoroughly cleanses and narrows the pores of the skin
• has anti-inflammatory and soothing properties
cistus extract Cistus Incanus Flower/Leaf/Steam Extract
• contains polyphenols with antioxidant, anti-inlammatory and antibacterial properties
• soothes the symptoms of acne
• has the ability to capture and remove free radicals, providing a youthful appearance of the skin for longer
• supports the fight against dandruff and excessive greasy hair
bark of aspen poplar extract Populus Tremuloides Bark Extract
• natural source of salicylates
• has anti-inflammatory and anti-bacterial properties, inhibits the multiplication of bacteria responsible for the formation of acne

Directions:
Apply onto moistened skin, massage with circular motions and rinse off. Suitable for everyday use.
Aqua (Water), Glycerin, Cellulose Acetate, Hydrated Silica, Betaine, Charcoal Powder, Panthenol, Propylene Glycol, Cistus Incanus Flower/Leaf/Stem Extract, Camellia Japonica Seed Oil, Populus Tremulooides Bark Extract, PEG‐40 Hydrogenated Castor Oil, Carbomer, Hydroxyppropyl Methylcellulose, Phenoxyethanol, Ethylhexylglycerin, Disodium EDTA, Sodium Benzoate, Parfum (Fragrance), Sodium Hydroxide.
---
We Also Recommend
---